Suzuki Jimny +50mm Suspension set
Code: xshc 50mm lft
300.00 €

Availability:
Suzuki Jimny suspension set +50mm
Simple suspension kit replacing the original suspension.
50mm lift does not require any additional modifications to the suspension elements.
Springs adapted to the weight and destination of the car provide optimum performance and comfort.
We produce springs in several thickness variants allowing a wide range of hardness.
The XshockDakar Gas shockabsorbers provide stable and safe driving.
Spring  hardness: HD/HD HD/MED MED/MED MED/SOFT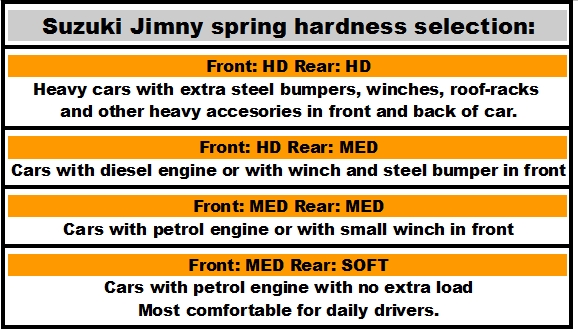 Suspension in colors similar to the factory originals. 

Set contains 4 shockabsorbers with bushes and 4 springs.
Kit is recommended for daily drivers, tourists and easy off-road.
BACK